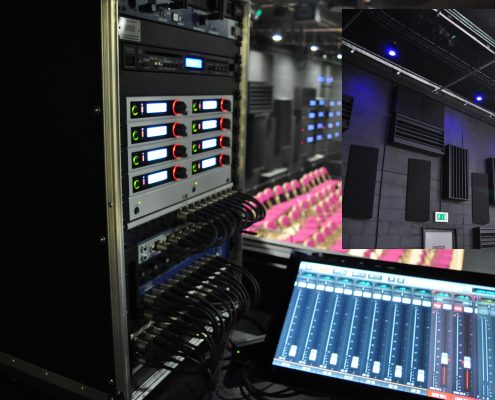 Intelligibility is the most relevant issue in large spaces such as churches, sports hall, drama studios, auditoriums, airports or train stations. Our experience include more than 20 churches of 1200 people capacity and working in environments with more than 3 seconds of reverberation. We proudly achieved quality and low speech disturbance bringing to speakers a pleasant experience realising that people was listening and understanding the spoken messages.
We provide services in audio systems management with options like variable acoustics ambient control through digitally controlled sound systems.
We can integrate acoustics with sound systems as part of our best knowledge creating something unique and with good value.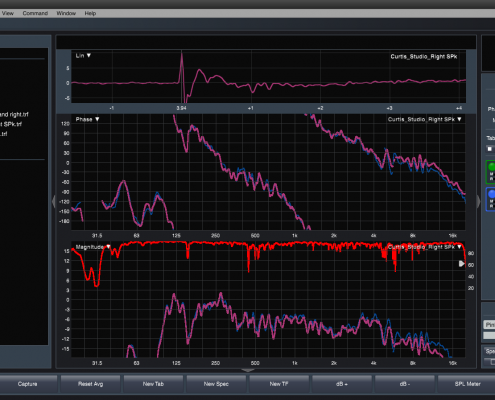 Monitoring audio systems are for most studios the starting point to have a god mixing process, but none of them will work properly without calibration.
We have the latest technology to provide phase alignment and frequency response calibration with our new tool Smaart V8. We can also acoustically analyse your control room and provide you a better understanding of what is really happening at low frequencies, in order to produce more accurate mixes and finding out the best solution to compensate situations of sound cancellations.
With this tool, the acoustic survey will help us to visualise exactly what information we have to introduce in our acoustic simulation software CATT-acoustic, to establish where the wave, specular, and ray acoustics zones prevail.
Smaart V8 is a tool and does not tell you what to do, it is our expertise and experience who does.
Smaart V8 ©Copyrights Rational Acoustics LLC 2020
CATT-Acoustic ©Copyrights CATT 2020